Artist
DIGITARIA
Sao Paulo, BR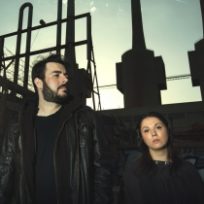 Daniela Caldellas and Daniel Albinati are the names behind Digitaria. They come from Brazil and started playing together as a four-piece band in 2004, making dance music experiments with a big range of influences, creating beautiful and unusual tunes. The philosophy behind their music never changed with the years — electronic music should have no boundaries, creativity and feelings are the only things that matter. There must be no rules for creation.
Their first release was 'Teen Years', in 2006, on German label Gigolo Records. The single became a massive hit in the scene and their first album was released, followed by a huge tour in Brazil and Europe. The track was quickly licensed to a Ministry of Sound compilation and got a flawless remix from the Swedish project Zoo Brazil. Sure enough a good start.
Since then, a lot of things happened. They band became a duo, they made more music, a lot of remixes, a second album and a non stop touring in every possible club and festival in Brazil and South America.
In 2011 they met Jamie Jones in their hometown and gave him some unreleased tracks. Soon they joined the roster of Hot Creations label with the Masochist EP by Digitaria and Funky Fat. The four tracks got massive support from DJs from around the globe, climbing the charts quickly. Some months later Digitaria released the track 'Reaction', a collaboration with German duo Adana Twins that had the same destiny — another lovely club hit.
Digitaria's last release is the Shine EP on Hot Creations (with remixes from Morgan Geist and wAFF), another lovely blend of dancing beats, ethereal vocals, fat bass lines and deep emotional lyrics, the elements that make Digitaria a unique project. In the meanwhile, they have been playing all around the world, from Brazil to Russia, from Ibiza to Istanbul, in dreamlike clubs, parties and festivals like The Warehouse Project, Paradise at DC10, Creamfields, Dream Valley, D-Edge and Warung, to name just a few.
The duo's next move was to relocate to Europe, where they are finishing their next album, to be released soon. Their music goes from purely dancefloor tracks to romantic vocal tunes — sometimes both at once. A new chapter in their history, indeed. Expect the unexpected; the best is yet to come.